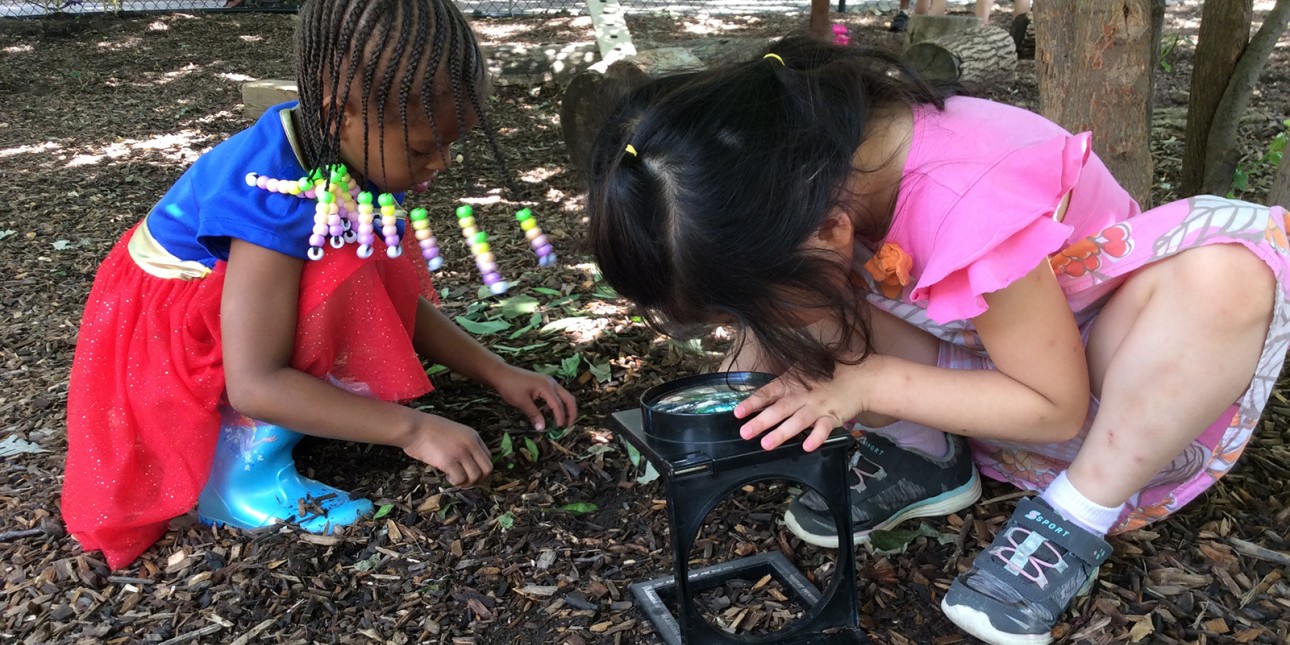 Be it digging in the sand and dirt, playing in puddles, building structures with sticks and blocks, jumping among tree logs, dancing on the stage, or running in the open space, it is a delight to watch children create their own outdoor adventures each day.
Children Need Nature
We are very fortunate to have such a large outdoor playground space in the midst of an urban environment and our work is inspired by studies that consistently show that regular access to outdoor spaces infused with nature can:
Increase self esteem and resilience against adversity
Reduce stress and Attention Deficit Disorder (ADD) symptoms
Improve concentration, learning, creativity, cognitive development, cooperation, flexibility and self-awareness
Support creativity, self control and self-discipline development
Prevent childhood obesity
Improve eyesight
Build the foundation for responsible environmental behavior
Magic Circle Nature Playground
The Magic Circle Nature Playground gives PIC children an opportunity to connect with nature in a way that many growing up in an urban environment don't have. It is a space that offers unstructured, nature play with endless opportunities for exploration and discovery.
The Nature Playground at PIC is officially known as the Acadia Woods Magic Circle Nature Playground, named for a special place where former PIC Executive Director Marni Sweet played as a child. This outdoor play space is used by our own 2-8 year-old children, as well as for children in the neighborhood!
PIC's Magic Circle Nature Playground has earned national certification as a Nature Explore Classroom from the Dimensions Educational Research Foundation and the Arbor Day Foundation. It is a transformation in outdoor learning and the Parent-Infant Center serves as a model for other educators of young children.
A beautiful wooden arbor with vines growing up the sides invites children and their families to connect with nature through free and joyful play in a special, peaceful space.
Our Nature Playground features a variety of outdoor learning centers where children and their teachers make meaningful connections with nature daily. Among trees, bushes, perennials, a butterfly garden, and vegetable and flower gardens, children learn about the life cycle. Areas were created for playing in sand and dirt, building with loose parts and jumping among logs, playing with big blocks and doing outside art. It is a beloved part of the PIC campus and an inspiration for children's play, learning, and socio-behavioral growth.
Whether rain or shine or even snow, children experience nature all year long at PIC!
Dedicated Nature Educator
PIC has added a Nature Educator to its staff to further engage PIC children in enriched discovery, as well as support teachers with less experience outdoors to incorporate nature in their classrooms and curriculum.
The Nature Educator offers activities on our playground, as well as throughout the neighborhood, to guide children in hands-on learning about animals, insects, birds, plants, trees, water, and so much more.
Naturally Expanding our Reach
We continue to seek opportunities to take the lead on this topic in the early education community. Lead by a passion for nature learning and a very strong commitment to increasing access to high quality early learning for families who can't afford it, PIC is embarking on a new partnership project with Smith Memorial Playground.
The indoor classrooms of the new Urban Nature Preschool at Smith will be complemented with outdoor play and learning space. Exploration of the natural environment will be the driving principal for the curriculum and children enrolled in the preschool will spend a significant time outdoors every day
The vision for the preschool is truly unique, especially in an urban environment like Philadelphia. Look for the upcoming groundbreaking in fall 2019!