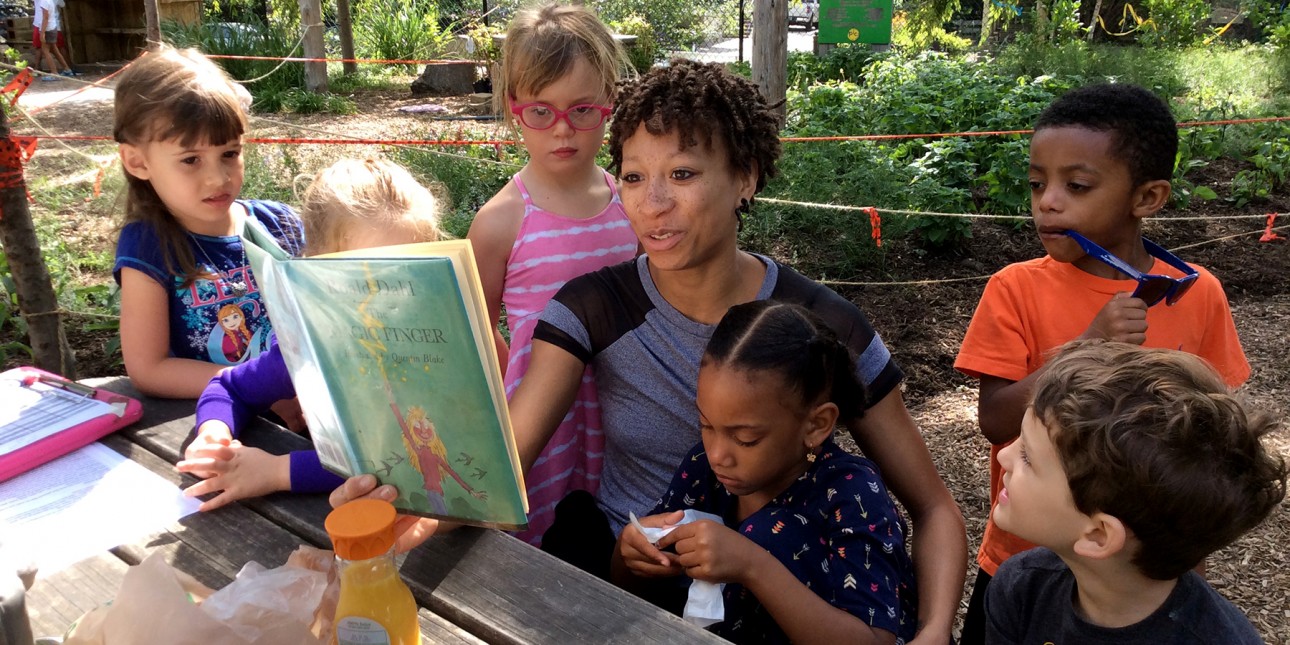 After a long day at school, children need time to unwind, expend some energy and play with friends.
At PIC, we understand the importance of high quality out-of-school time care and are proud to be accredited by the Council on Accreditation.

Curriculum
Our after school program offers time for homework assistance, outdoor free play, and opportunities for hands-on learning.
Special interest clubs form the richest part of the ASC curriculum and are offered five days per week. The clubs are designed in 6- or 8-week sessions and range in topics and activities depending on the interests of the children and talents of the staff. Options include 3-D modeling, cooking, sports, arts and crafts, computers, gardening, dance and other performing arts, and many more. Homework is always a club option.
Ages and Enrollment
The After School Center at PIC serves children in grades K-5 who attend area public, independent or parochial schools. Families may enroll children for 3, 4 or 5 days per week.
Hours
The After School Center program hours are from 3 to 6 pm Monday through Friday. The ASC is open on many school holidays and half days (see Holiday Care below).
Pick up and Transportation
We currently provide transportation by van from the public schools, Greenfield, Powel, and Science Leadership Academy Middle School; the parochial school, St Francis de Sales; and the charter school, Independence Charter West.  Teachers meet and walk with children from Lea School and Penn Alexander School.  We ask that at least three children come from a single site before we can provide walking pick-up or van transportation.
Classrooms
Children are assigned to one of four age groups and classrooms are based in two buildings.
Stucco Building

 

Dragontails - kindergarten (age 5)

 

The Aviary

Starlights - first grade (age 6)

Hawks - second and third grades (ages 7-8)

Eagles - fourth and fifth grades (ages 9-12)
Typical Day
Upon arrival, children play outdoors, weather permitting.  Some change from school uniforms to play clothes, other children take the opportunity to do homework.  At about 4:00 p.m., after washing hands, all gather for a communal snack in their designated classroom or age group;  children and teachers clean up their snack area and then gather together for the "send off" to various special interest clubs.
Following daily clubs, which range from 40 minutes to an hour in duration, children engage in free play or homework time until they are picked up by parents, guardians, babysitters, or other designated adults.
Holiday Care
We offer full-day care on school holidays and part-day care when children are released early for scheduled half days or for weather emergencies (PIC often remains open when schools close). Holiday care may include special activities or trips to nearby points of interest. Families may enroll for School Holiday care only.
Parent Involvement
Parent involvement is an integral part of the PIC experience and all families who enroll agree to make an investment of time in the work that we do. Through the Parent Participation Program families enrolled in the After School Center are required to complete 5 hours of participation for two-parent families and 3 hours for single-parent families. Families that choose not to participate through direct volunteer tasks pay $15 per hour to fulfill the annual requirement. Learn more >.
Tuition and Enrollment
Learn more in the Enrollment section of our website.