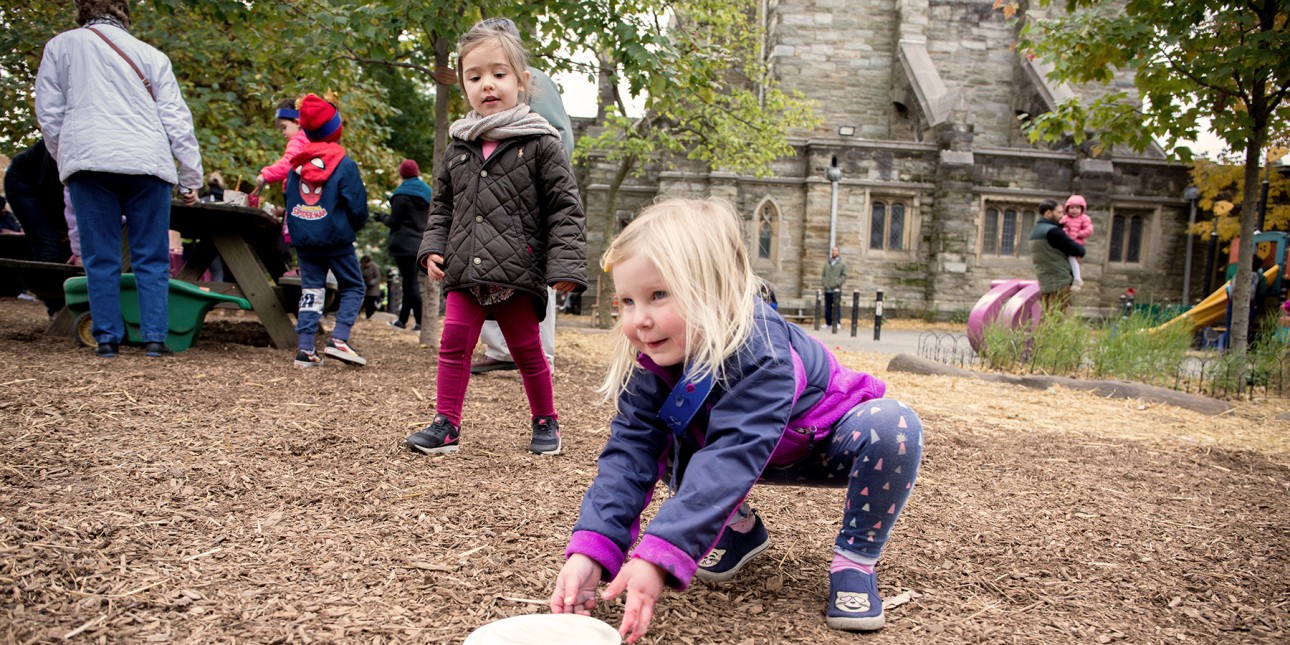 The Parent Infant Center provides ample indoor and outdoor play space on a beautiful urban campus.
Located near the University of Pennsylvania's campus in West Philadelphia, the Parent Infant Center is on 42nd Street between Spruce and Locust Streets. The center's main entrance is at the southwest corner of 42nd and Locust Streets.
Inside places
Our classrooms are warm and welcoming spaces filled with light and natural materials. Inspired by the principles of the Reggio Emilia approach, we believe that a classroom's layout and aesthetic can have a significant impact on learning. You will find hands-on learning centers, space for collaborative play, and cozy nooks for quiet talk. Read more about Reggio Emilia at PIC.
We have three large gross motor spaces, known as the Small Gym, Big Gym, and A-Z Room. In these spaces, children practice jumping and tumbling on mats, shoot baskets, ride trikes, and more.
With a strong belief in the power of loose-parts learning, we created the Recycleteria. In this room are collections of recycled or natural materials. Teachers use items in their classrooms as materials for unstructured learning.
Outside spaces
PIC's Magic Circle Nature Playground is a nationally certified outdoor classroom. It has been designed to support and encourage free and joyful outdoor play that is child-directed and connected to nature in a meaningful way. It serves as a model for other educators of young children.
Infants and young toddlers play in the "Tot Lot" with a dirt box for digging, a sandbox, an outdoor art easel, and space for crawling, cruising, playing with push toys, and riding trikes.
Our community
The surrounding neighborhood is an extension of PIC classrooms. Our classes take frequent trips to the fire station, library, Clark Park, and University of Pennsylvania attractions such as Locust Walk and the BioPond.
There are a diversity of cultures represented in our neighborhood businesses. Visits to the grocery stores and nearby restaurants often add flavor to our areas of study.