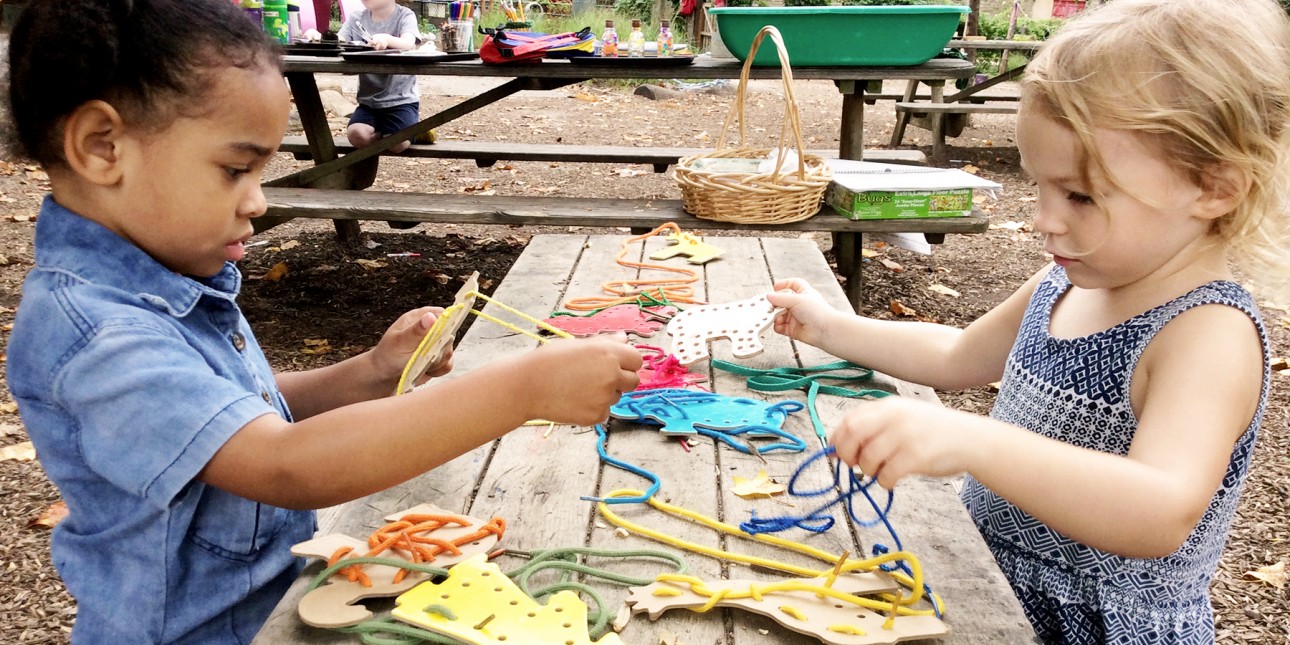 PIC's Early Learning Program builds upon the sense of joy and natural curiosity that children bring to their first school experience.
The Early Learning Program is accredited by the National Association for the Education of Young Children and has a four-star rating from Pennsylvania's Keystone STARS child care quality assurance system.
Ages
PIC provides education for children ages 6 weeks to 5 years. We have both single- and mixed-age classrooms.
Class Ratios at PIC are 1:3 for infants, 1:4 for toddlers, 1:8 for preschoolers. PIC classroom ratios exceed state requirements, unless our staffing does not allow. If that occurs, our classrooms will always meet state requirements.
| Classroom Type | Age as of September | Class Names |
| --- | --- | --- |
| Infant/Young Toddler | 6-weeks to approx. 22 month | Bumblebees, Caterpillars, Doodlebugs, Wild Things |
| Older Toddler | Age 2 (by December) | Moonbeams, Rainbows, Sunshines |
| Preschool | Ages 3 to 5 | Blue Jays, Butterflies, Chipmunks, Fireflies, Grasshoppers, Hummingbirds, Leapfrogs, Roadrunners |
We have singular and mixed age (ages 3-5 years) preschool classrooms.
The Chipmunks are PIC's part-day classroom and the school day ends at 2 pm.
Curriculum
Our child-centered curriculum is based on everyday experiences and interests as children learn through play. Each day, children have time for active investigation, observation, and discussion.
Our teachers encourage children to work cooperatively and resolve conflicts with words, not actions. Through classroom experiences, children learn about the ways we are alike and affirm our differences. 
PIC uses the Creative Curriculum, which follows the philosophy that children learn primarily through play. We enhance this approach by using an "Emergent Curriculum," where teachers are careful observers of children's play and interests when developing topics of study.
Our Classrooms
Our classrooms are intentionally designed to represent home-like environments filled with light and natural materials. There is a balance of active and quiet play, with both individual choices and planned teacher-directed activities to promote skill development.
Well-developed and organized classroom centers encourage the learning of science, literacy, and math concepts. Each PIC classroom is separated into age-appropriate learning centers that may include dramatic play, blocks, sensory, art, writing, literacy, science and math manipulatives. 
Infants/young toddler classrooms
Designed to provide sensory stimulation through individual and group play. There is plenty of time for cuddling, reading stories, and playing outdoors.

Toddler (two year old) classrooms
Designed for a more structured day with designated learning centers. Activities help foster independence, socialization, cooperation, and decision-making.
Preschool-age classrooms
Designed to encourage more independent play. Art, music, and movement activities encourage creative expression. Children learn to use books for pleasure and learning. Through play activities, children develop fine and gross motor skills, pre-reading and writing skills, and social skills that are important to school success.
PIC is "Reggio-Inspired"
Our work is guided by the internationally-acclaimed schools of Reggio Emilia, Italy, and by more recent research.
We see children as strong and capable and believe that they acquire knowledge through their natural curiosity and creativity. 
The individual pace of a child is honored and respected.
The classroom environment plays a major role in children's growth and learning.
Teachers implement the use of "loose parts" and an Emergent Curriculum.
Read more about the Reggio on the Reggio Inspired page of our website or at reggioalliance.org.
Beyond the Classroom
We are so fortunate to be located in an urban neighborhood in West Philadelphia on a beautiful green campus. Our children play outside all year long, in all types of weather.
Our toddlers and preschoolers spend time on our nationally-certified outdoor classroom known as the Magic Circle Nature Playground. Our infants and young toddlers enjoy outdoor time on the Tot Lot.
The surrounding neighborhood becomes an extension of the classroom. PIC children often visit the campus of the University of Pennsylvania, walk to the neighborhood public library, and watch the trolleys at the 40th Street portal. We regularly visit Clark Park, the BioPond at the University of Pennsylvania, the local fire house, or just take a walk around the block.
Our neighborhood is also an abundance of businesses big and small that offer learning opportunities. From literacy skill-building to the appreciation of different cultures, children visit grocery stores, restaurants, community gardens and more.
Program Hours
Early Learning Program hours are from 8 am to 6 pm Monday through Friday. In addition to our full-time program, we offer a half-day classroom (8 am to 2 pm) for children ages 3-5.
Parent Involvement
Parent involvement is an integral part of the PIC experience and all families who enroll agree to make an investment of time in the work that we do. Parents/caregivers can fulfill their Family Participation Program (FPP) volunteer expectation by performing a variety of jobs and activities throughout the year.
Tuition and Enrollment
Learn more in the Enrollment section of our website.