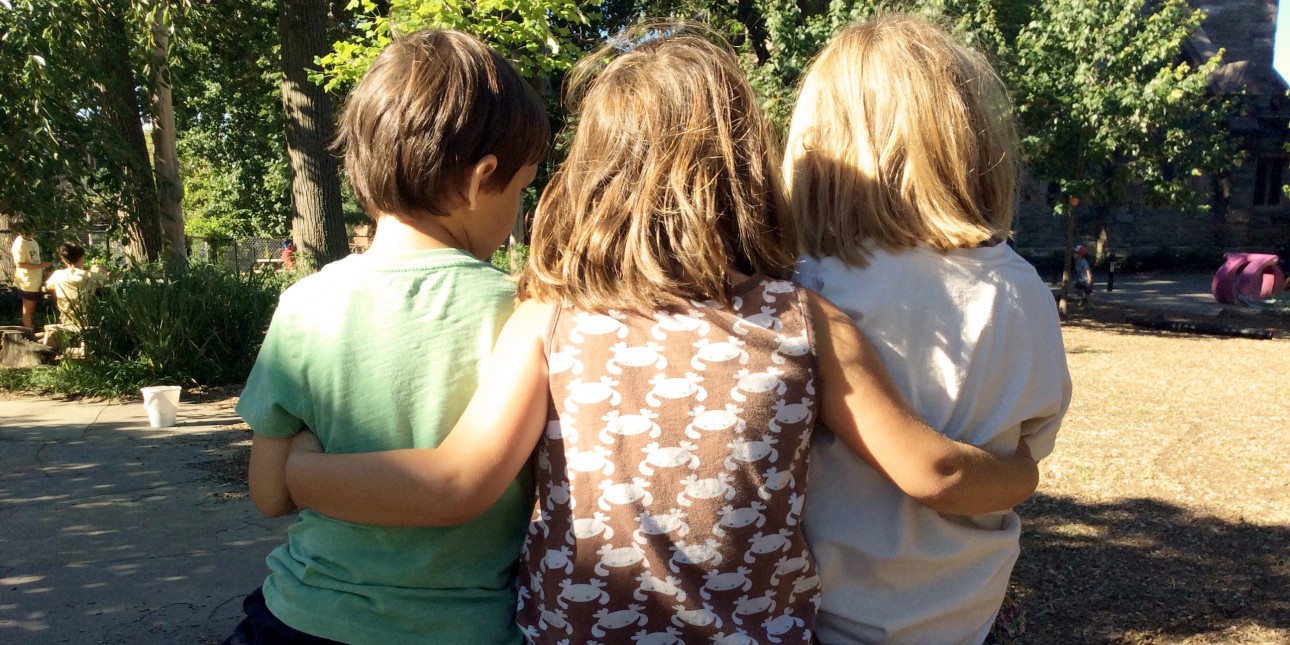 For over four decades, PIC has maintained the highest levels of programming, responded to the needs of the community, valued the dedication of our teachers,  and supported  young families.
The University of Pennsylvania opened the Parent Infant Center (PIC) in 1978 to serve infants and toddlers who were too young for its campus preschool program. A year later, when the University decided to close PIC, parents incorporated the center as an independent, nonprofit organization. Housed on the grounds of the former Episcopal Divinity School of Philadelphia, we have been at our present location since 1986.
In 1983 we began serving children in publicly financed care, and in 1986 we established a scholarship fund to assist families whose income is too high for public funding, but who cannot manage the full cost of child care.
Responding to the need for school-age child care, we opened the After School Center in 1996 for grades K-4. It doubled in size in 2001, extending ages served to eighth grade. In 2002 PIC's After School Center became the first program in the Delaware Valley to achieve accreditation.
Throughout its history, PIC has worked on community-based programs to meet the current needs of families in the neighborhood. We have:
collaborated with other organizations to supervise a play program in area health clinic waiting rooms.
provided technical assistance and training for area family day care providers.
piloted a program to provide child care for women in job training programs at a nearby homeless shelter
hosted parenting education programs.
Additionally, we have developed strong relationships over time with universities and colleges resulting in PIC being among the preferred sites for pre-service observations and practicum experiences.
In 1997 PIC began a weekly parent/child playgroup on Friday mornings. Weekly playgroups continue today on Mondays and Fridays for caregivers and children under the age of 5.
In 1997 PIC became one of the first centers to achieve accreditation from NAEYC (National Association for the Education of Young Children).
In June 2007 longtime Executive Director Marni Sweet retired due to illness. During her tenure (1982-2007), the Center quadrupled in size and raised more than $1 million for child care and special programs working with families. When Marni lost her battle with brain cancer that September, the Center launched "Sweet Dreams," an ambitious campaign to raise another $1 million to meet the rapidly growing demand for child care in University City.
Under the leadership of Executive Director Cindy Roberts, PIC became one of the earliest partners to participate in Pennsylvania's Pre-K Counts initiative, established to provide publicly funded preschool education to 3- and 4-year olds from economically-disadvantaged households.
Following on the success of the Sweet Dreams capital campaign, the Marni Sweet Building opened in 2010. This expansion increased PIC's capacity by 30 percent with the enrollment of 50 additional families. The addition of 9,000 square feet of newly-renovated space resulted in six classrooms, administrative offices, and indoor and outdoor play areas. The Sweet Dreams campaign also provided for center-wide improvements including renovation of the infant playground, a state-of-the-art resource room for teachers, a parent lounge, and a children's library.
In June of 2012 we launched the Magic Circle outdoor classroom initiative. Research confirms the value of nature-based learning in healthy child development. With seed money from the Sweet Dreams campaign, an entry arbor was designed and built to welcome families into a wonderful world of learning and exploration.
In September 2012 the arbor was dedicated to outgoing Executive Director Cindy Roberts whose vision and commitment had driven this project forward from its inception. In spring 2013 PIC parent volunteers expanded the children's garden, followed by the creation of a dirt digging area and mud kitchen.
In July of 2013, Debbie Green joined PIC as Executive Director and led additional renovations to the nature playground space. Deb is a seasoned early childhood professional with over 30 years in the field and was excited to provide leadership to PIC,  an organization who she had maintained close ties with over the course of her career.
In the summer of 2014, construction of the Magic Circle Nature Playground was completed. Shortly after its completion, the playground earned national certification as a Nature Explore Classroom from the Dimensions Educational Research Foundation and the Arbor Day Foundation. This play space is open to our surrounding community when PIC is closed, and serves as a model for other educators of young children.
In 2017, PIC expanded its campus by moving our older after school children into the Aviary Building at Spruce and 43rd Streets. With its cozy interior rooms and wonderful outdoor space, it perfectly suited the ASC program.
The relocation of the ASC created space for the addition of two new classrooms in our Early Learning program. Following extensive renovations, the Early Learning program was able to enroll 32 additional children, and gave PIC the chance to accept more children in the state-funded Pre-K Counts program. 
In 2018, PIC marked its 40th Anniversary by celebrating its rich history and honoring current and former members of its very active Board of Directors.
Not only did we look back on our anniversary, but we began planning for what lies ahead. We have partnered with Slide into Success, a program that supports outside early learning programs who are pursuing high quality credentials. PIC teachers provide early educators throughout Philadelphia an inside look into their classrooms followed by panel discussions as they strive to provide higher quality early learning experiences to the children enrolled in their own programs.