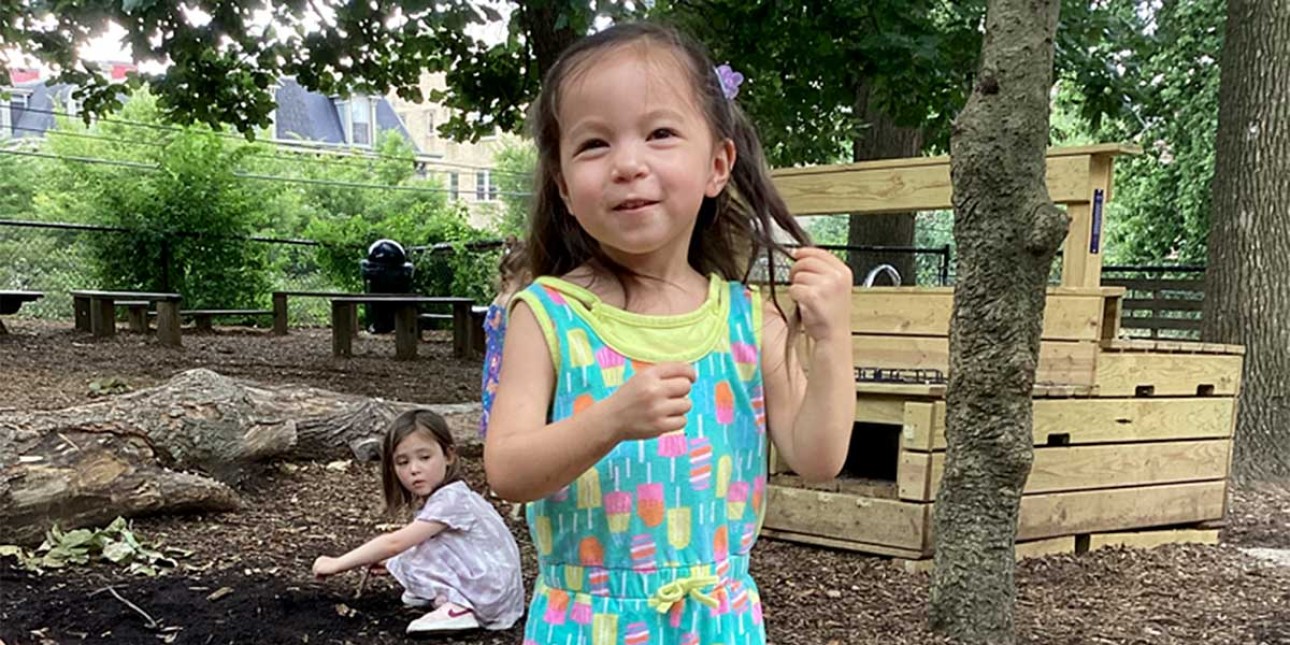 a monthly message from PIC Executive Director Deb Green
Later this week I am delighted to participate as a panelist at a conference sponsored by the US Play Coalition titled Preserving and Promoting the Right to Play. Presenters have been asked to speak on topics that include a) Why Play? How Play Impacts Social, Emotional, Physical and Mental Health Throughout Life, b) Who Gets to Play? How Race, Income and Class Impacts Access to Play and Quality of Play, c) Places to Play – Exploring Spatial Justice, Urban Design and Access to Play Spaces and d) Play as Solution– Examining Play as It Relates to Public Policy and Advocacy & Play as a Source for Community Health Solutions.
For me, this is a dream event as it addresses our mission and core values at PIC. This is the work we know well and the work that we do each day.
For the 45 years that PIC has been in operation, the core belief that children learn best through play has not changed. The research on the value of play is extensive and conclusive.
While play is often categorized into several types, the emphasis at PIC is on both free play and guided play.
Free play is defined as voluntary, flexible, and with no projected learning outcomes (think of children in pretend play, outdoor play, or playing with Magnatiles and Leggos.) The many benefits of free play for young children include:
Developing strong communication, vocabulary, and language
Problem solving
Providing an outlet for creativity and experimentation
Interacting with others and using negotiation and problem solving skills
Learning resilience, flexibility and adaptability
Becoming more willing to take risks and try different scenarios
Helping children manage stress and recover from trauma
With so many structured activities for even our youngest children, loss of outdoor areas, excessive screen time, and increased academic pressure, this age-old tradition of free play is fading. Many children no longer know how to engage in free, spontaneous play.
Guided play, unlike free play, means there is a learning goal set by an adult, and children are 'gently steered' to explore. Guided play always involves children learning through active engagement with materials. At PIC we often refer to these guided play experiences as "Invitations." Research shows that guided play is more effective for teaching academic content (ie. letters, numbers, etc.) than direct instruction. Through guided play, when teachers are invested in helping children explore their interests, desires, and abilities, children more easily advance their understanding of the foundations needed for later school success.
Teaching in an early childhood program where the emphasis is on play sounds simplistic to many, but I assure you it is not. As an example, it is much easier for teachers to teach the letters of the alphabet by having children sit at tables and repeatedly trace letters on paper. Using a guided play approach, teachers may hide letters in the sand, work with children on an alphabet puzzle, have children spell their names with letters written on rocks or shells, or set out shaving cream for children to write letters.
Allowing the focus of the curriculum to be on play requires skilled teachers. Teachers need to have an educational background in understanding the ages and stages of child development, as well as an understanding of developmentally appropriate practices. They need to know the individual developmental level of each child in their care in order to help each child move along their own continuum of development. They need to be creative in their curriculum planning process, and inspired to continue to learn and grow as educators.
I hope that this message gives you a small window into our PIC philosophy of learning through play. We hope that play is never seen as something to do after the "real work" is done.
Long live play as the real work of childhood.