PIC Accepted into International Exhibition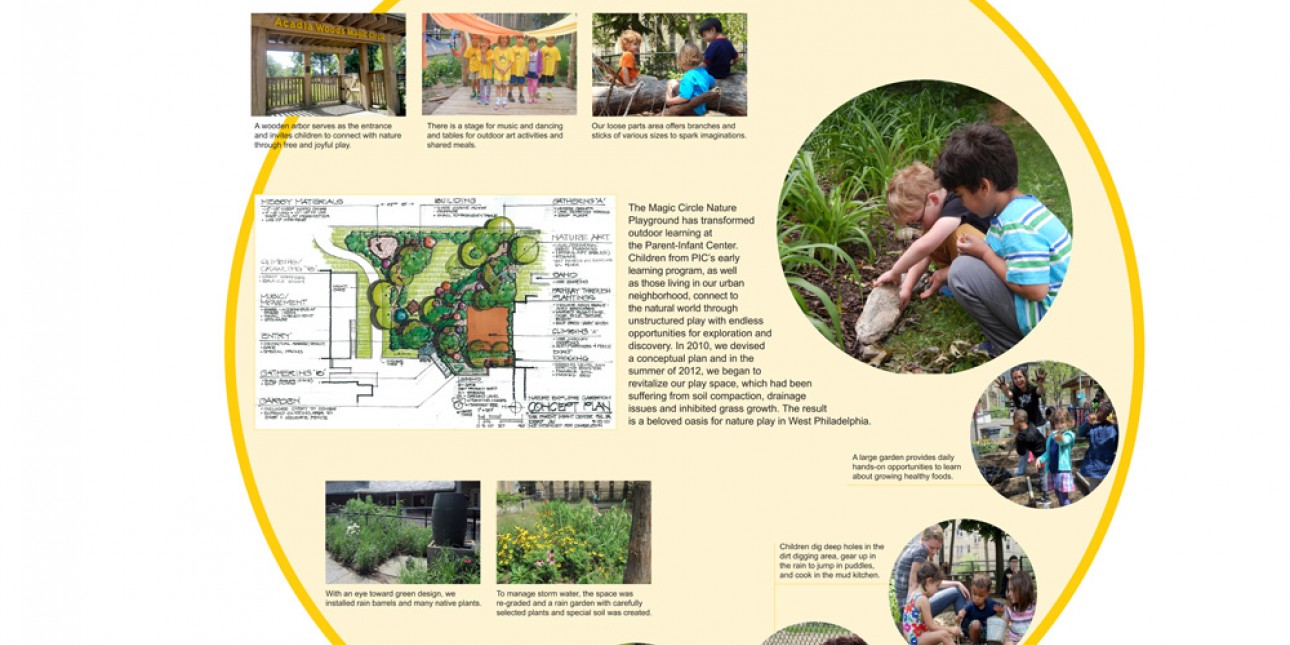 Here is some big news! PIC's Magic Circle Nature Playground has been accepted as one of 40 designs to be exhibited in How We Play, an exhibition of international best practices in the design of outdoor play spaces for children.
We are so proud of our Nature Playground. It is a beautiful space that enlivens the imagination of young children at PIC and in the West Philadelphia neighborhood.
Children jump among tree stumps and climb on a wall of big boulders to enhance gross motor skills. A large garden provides daily hands-on opportunities to learn about growing healthy foods. Our loose parts area offers branches and sticks of various sizes to spark imaginations. Children dig deep holes in the dirt digging area and cook in the mud kitchen. There is a stage for music and dancing and tables for outdoor art. With an eye toward green design, we installed rain barrels and many native plants. To manage storm water, we re-graded and made a rain garden with carefully selected plants and special soil.
As PIC Executive Director Debbie Green remarked, "All you have to do is watch the children at play to see that it is a masterpiece in natural play space design. We are honored to have been selected to participate in this exhibition."
The exhibition will be on display at the Philadelphia Center for Architecture, 1216 Arch Street from August 5, 2015 through September 25, 2015. Visit any time during gallery hours, Mondays through Saturdays from 10:00 am - 6:00 pm or Sundays from 12:00 – 5:00 pm.