In the Classroom: The Moonbeams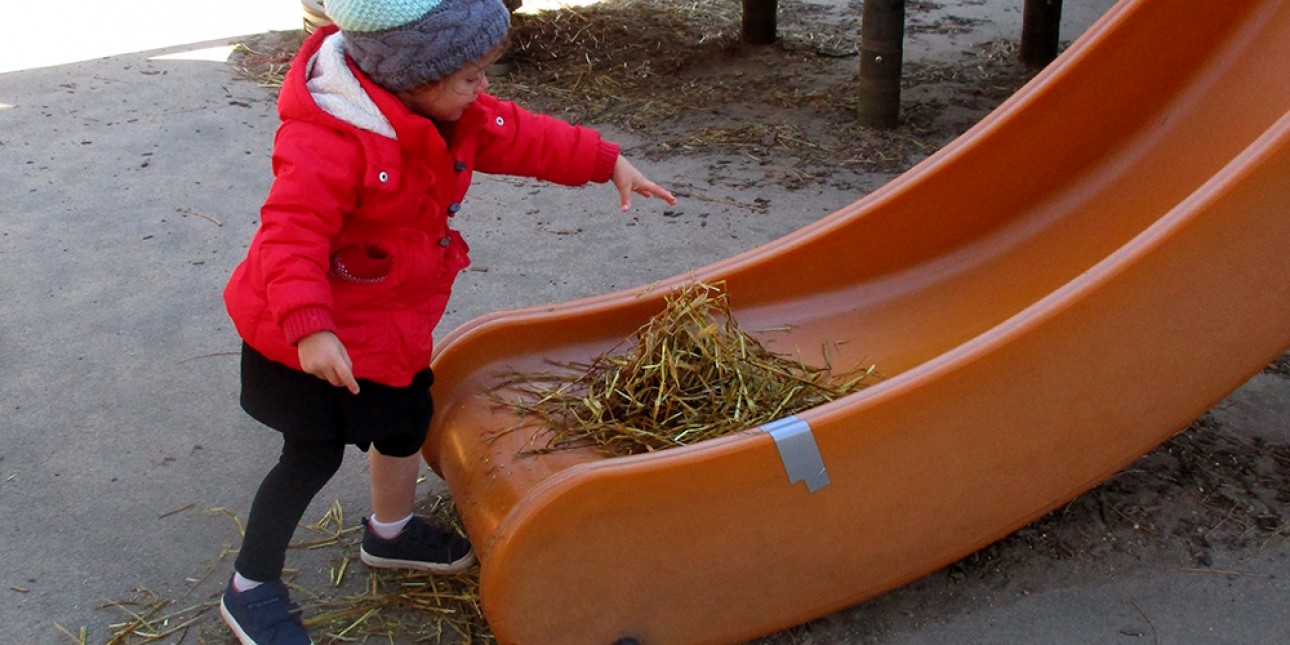 What are hay slides?
With all the loose hay still around the playground from our Family Fall Festival in November, the Moonbeams have created a new game we like to call Hay Slides. This twist on sliding incorporates lots of new teachable moments for the 'Beams.
Since most of the hay is still baled at the other end of the playground from the climber, several 'Beams first tromp across the playground for an armful of hay, returning to the climber to place it at the end of the slide. Kids then take turns splashing through the pile.
The usual skills of climbing up to the top of the climber and waiting for a turn, while resisting the impulse to give a nudge to someone who may be taking a bit too long, come into play with hay slides.
There is an added dimension though, which creates a very real, tangible social problem: who will put more hay on the slide so that the next person may splash down into it?
There have emerged three different attitudes among the children regarding this quandary.
First, and most toddler-like, is the child who waits at the top of the slide for someone to get the slide ready for him or her, joyfully taking a slide, then racing back up for another go.
The second type of child loads the hay for a friend, and trusts that someone will do the same for him or her as they head up the climber steps for their turn.
The third kind of attitude that has emerged is a truly altruistic one; this child seems to get all the fun they need from loading the slide and just watching their friends splash down delightedly.
It is fascinating to see even at this early age how the Moonbeams are taking on the social issues that are meaningful to them. Whether their attitudes shift over time is an interesting question to ponder...