In the Classroom: The Leapfrogs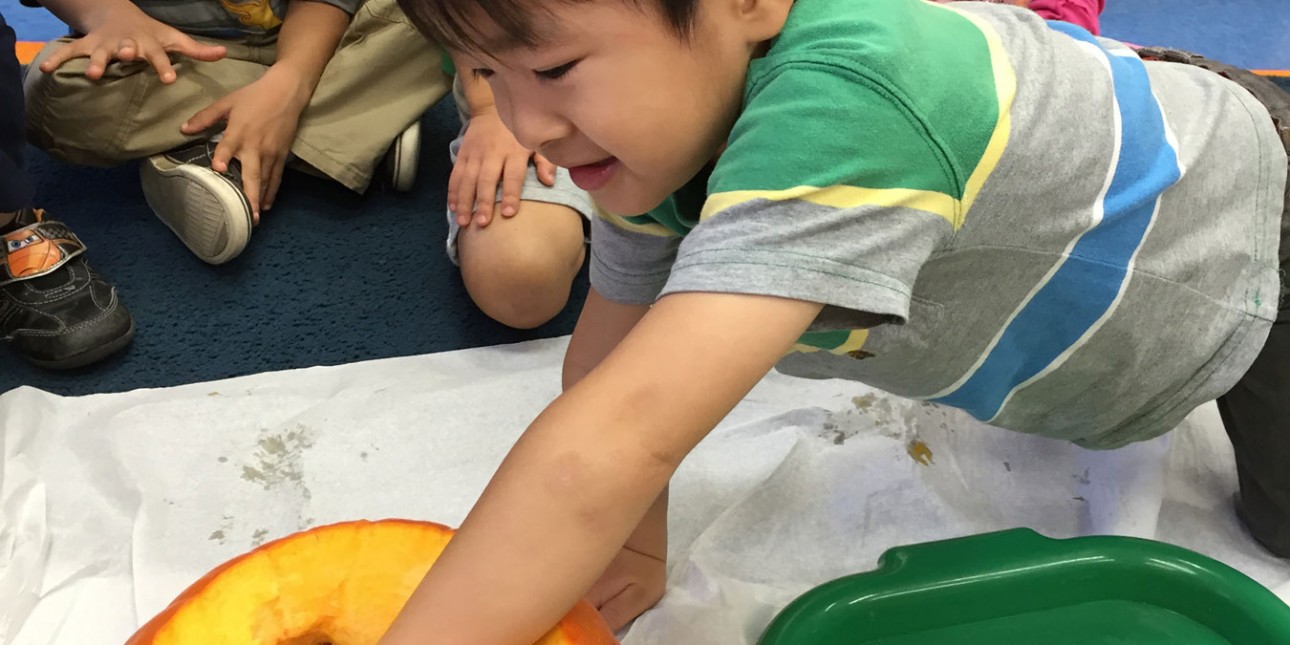 Fall Discovery
As the days began to get cooler, the Leapfrogs began to talk about how the leaves were changing colors. Some began to gather leaves that had fallen to the ground, while others collected acorns in small sandwich bags.
As teachers, we figured it was a good time to investigate more about fall or "autumn," as many learned this new word to describe the season.
Some of the amazing activities that we have done include easel paintings, making graphs of how many apples we think we could hold on top of our heads, making a huge tree for our Dramatic Play area, and examining a PUMPKIN!
Examining a pumpkin had to be the best part of our theme! The children first made a prediction of what was inside of the pumpkin.
"sticky stuff"
"seeds"
"baby pumpkin"
"yucky stuff with lots of seeds"
We cut open the pumpkin and allowed our hands to feel the insides. The children were pleasantly surprised to see their predictions were correct!
We later carved a smiley face in our pumpkin and we have checked in on it day by day with daily drawings.
Soon our pumpkin began to rot and lots of mold appeared. Sounds gross right? Well the Leapfrogs enjoyed the look of our pumpkin and how silly the face appeared as it began to sink in.
Though a bit sad to learn that we would have to throw our pumpkin away, the Leapfrogs were also excited because to end our theme, we took a trip to Linvilla Orchards where we went on a hayride and visited a huge pumpkin patch!