In the Classroom: The Leapfrogs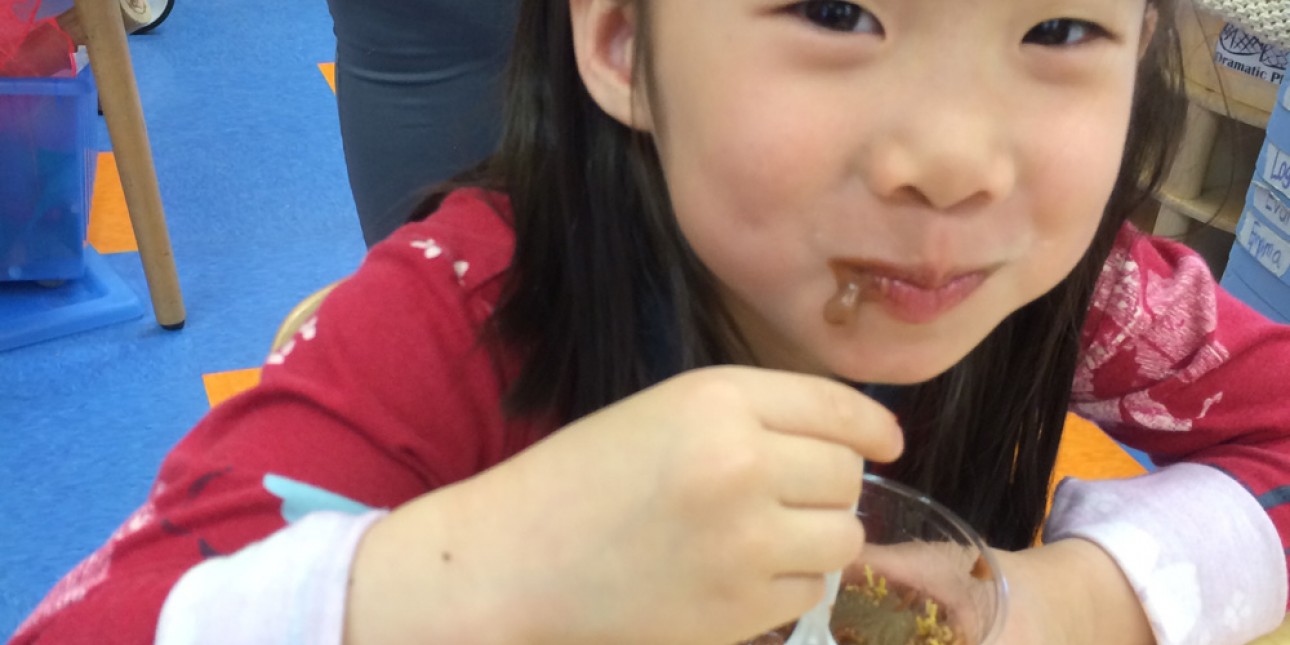 Spring...it's a treat!
The Leapfrogs have felt that winter was here for too long. Some of the reasons we are excited for spring is because we can be outside more often, we can smell pretty flowers, and we don't have to wear heavy snow boots.
We introduced spring with a big bag of potting soil in our sensory table. Since then, we have planted indoors and out, made awesome artwork, had our own pretend Plant Sale, and made an awesome treat with the nutritionist from the School District of Philadelphia (see recipe below).
Each child planted their own special flower by putting soil in a cup, digging a hole, dropping flower seeds, covering the hole and watering their soil. Some Leapfrogs were responsible for finding a sunny spot in our classroom for our flowers to grow. Others planted beans (lima, pinto, black) using paper towels to soak in small cups. Some beans have begun to sprout already!!
Inspired by flowers we have seen on our walks, in our classroom, or even in our gardens at home, we have painted beautiful pictures of flowers at our easel. The Leapfrogs have become even more creative by choosing natural objects from outdoors to paint with, such as rocks, pine cones, sticks, and even pine tree branches that they have collected.
The most interesting part of this theme has to be the insects! The Leapfrogs have seen ladybugs (in our own big gym), bumblebees, spiders and butterflies.
We were inspired to get our very own caterpillars to observe exactly how they change into butterflies!
We are currently witnessing how fast the caterpllars grow and can hardly wait for them to turn into butterflies. We plan to release them in our butterfly garden. Please come and take a peek. We are on the 3rd floor of the Sweet Building!
Here's the recipe for our Worm in Dirt treat, in case you want to try it at home.
Crunch up Chex cereal in a bag. (Put it in the bottom of the cup to represent dirt.)
Place 2 spoonful chocolate pudding on top of the chex cereal.
Place 2 spoonfuls of granola on top of the pudding.
Place one worm (candy worm or noodle) on top.
Enjoy!