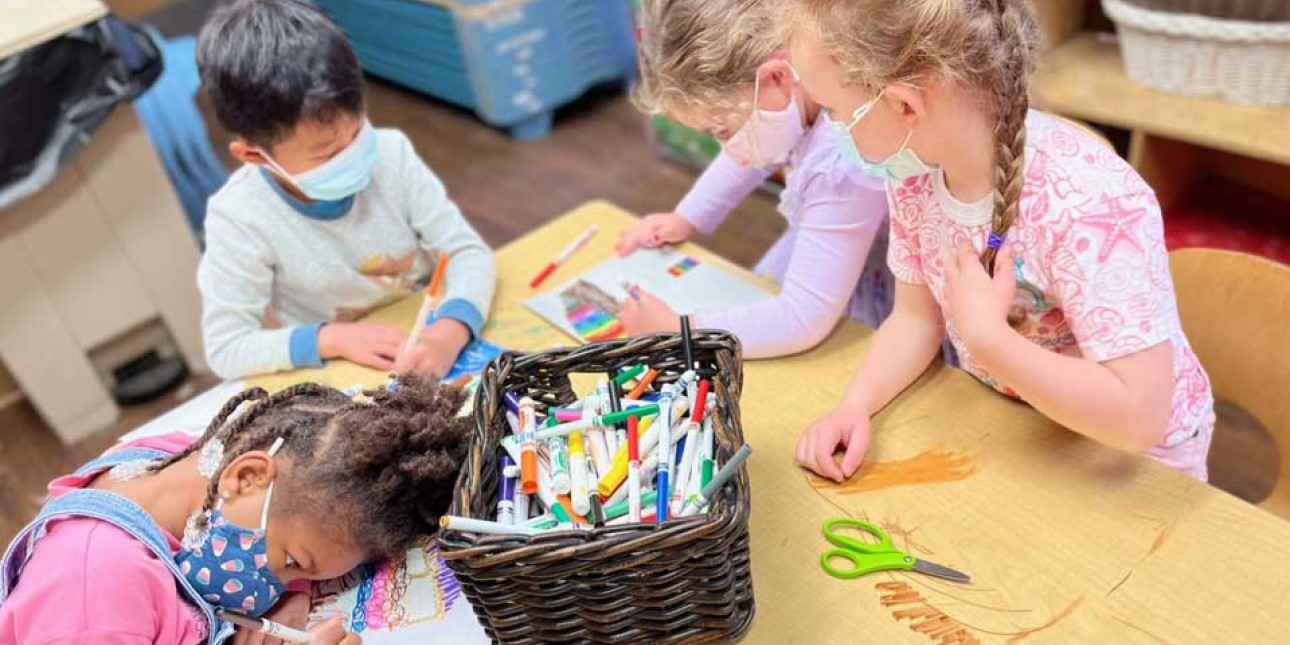 Monthly message from Executive Director Deb Green
"Art" can be a tricky word. Often "art" is seen as static, a word describing a finished product made of paint, paper, clay or collage materials. Children are naturally drawn to art. For them it is a form of expression as they explore materials and uncover possibilities. Children relish in participating in process-oriented art.

Process art is characterized by being open-ended, experiential, unstructured, self-motivated, creative, and unique. It focuses on the process, or the doing, rather than the outcome or the product. It doesn't have to resemble anything you've ever seen before. Eyes don't have to appear in pairs and colors do not need to be constrained inside lines. In fact, it doesn't have to be recognizable at all. This type of art thrives without boundaries and it's only requirement is that the artist is enjoying the creative process.
It is through the doing that children learn so much: problem solving, experimentation, coordination and fine motor control, expression, innovation, scientific thinking, mathematical understanding and language development. Children gain confidence and feel a sense of competency and pride when they create something based on their own ideas and efforts.

Process art means that parents are sometimes disappointed when finished projects aren't sent home that resemble ones that they may remember from their own childhoods. PIC families will not see pre-cut Halloween jack-o-lanterns or Thanksgiving turkeys made from traced hands. While these "products" may provide families with refrigerator displays, the experiences have little value for children. Unfortunately experiences around the end product continue to be the norm at many early childhood programs.
At PIC, children engage in process art in so many ways. Babies may have their first sensory experiences with paint (often with more paint ending up on their face and in their hair than on paper), toddlers may learn about the properties of glue, preschoolers may experiment with painting upright at an easel and school age children may work with clay. Children may paint with paint brushes, or they may paint with sponges, q-tips, leaves, tennis balls, marbles, sticks, pinecones or fly swatters. They may create collages with paper, or they may use loose parts such as old puzzle pieces, yarn, fabric, bottle caps or buttons. Children may work individually or they may work on collaborative projects.
We want all children to experience the creative expression that art allows.

We invite parents (and friends) to join us for our celebration of children's art at our annual fundraising event ArtStart taking place on Thursday, October 13 from 6-8 pm on our blacktop. Child care is provided (but is limited so please register early).

Creativity seems to emerge from multiple experiences, including a sense of freedom to venture beyond the known
— Loris Malaguzzi (founder of the Reggio Emilia philosophy of early childhood education)