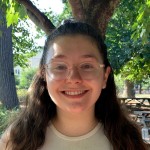 Zoe Jasper
she/her
Lead Teacher
Zoe Jasper works in the After School Program with 2nd-4th graders and as a flex teacher in all the early learning classrooms. She is grateful that she gets to interact with such a wide age range of children at PIC and witness their growth and learning at each developmental stage. Children never cease to amaze Zoe with their resilience, humor, and curiosity.
Before joining PIC, Zoe received her BA in Comparative American Studies from Oberlin College and worked in labor organizing. She is now working toward earning her School-Age Certificate.

Zoe grew up outside of Boston and currently lives in West Philly, just a short walk from PIC. When not at school, she enjoys hanging out with her cat, watching scary movies, and going to karaoke night.