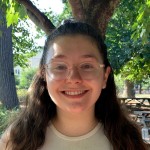 Zoe Jasper
Assistant Teacher
she/her

Zoe Jasper joins PIC in the After School Center. She has a strong background working with school-age children as a camp counselor and a babysitter. Her most recent work experience was in labor organizing.

Children never cease to amaze Zoe with their resilience, humor, and curiosity. Working with them challenges her to be a more thoughtful, patient, and selfless person.
Zoe was immediately drawn to PIC after seeing how much fun the kids were having in the After School Center. She also appreciates the school's Reggio-Emilio approach and emphasis on learning through play.

Zoe grew up outside of Boston and currently lives in West Philly, just a short walk from PIC. When not at PIC she enjoys hanging out with her cat, cooking, watching scary movies, and going to karaoke night.