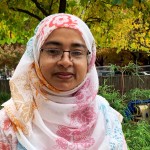 Tahamina "Taha" Talurkder
Classroom Assistant
I believe that building secure attachments with children to learn and grow in a safe environment is very important.
Taha Talurkder joined PIC in September of 2022. She holds a degree from Bangladesh Galachipa Degree college and has been working with children for the last five years.
Taha loves working with children and enjoys watching them learn through play. Her goal is to continue learning about children's growth and development in the Early Childhood field.
Taha has two daughters, one at Temple University and the other who is in the eighth grade at SLA Middle School.