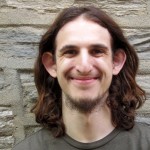 Paul Graff
Assistant Teacher
Paul Graff is an Assistant Teacher working in our After School Center.
A graduate of Earlham College, Paul earned a double major in Art and English. He inspires children's creativity by leading club activities in art and drawing, comic-book making, along with sports and nature appreciation.
He comes to PIC with a variety of experiences. Previously, he worked as an arts and crafts camp counselor, a docent for the Philadelphia Museum of Art, a video mixer and annotator, and is a self-published novelist.