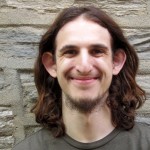 Paul Graff
Lead Teacher
Paul has been teaching in PIC's After School Center since 2013 across all age groups, but mostly with kindergarteners.
He likes to draw write and build. He has a passion for science, especially insects and games.
A graduate of Earlham College, Paul earned a double major in Art and English. He inspires children's creativity by leading club activities in art and drawing, comic-book making, along with sports and nature appreciation.
He comes to PIC with a variety of experiences. Previously, he worked as an arts and crafts camp counselor, a docent for the Philadelphia Museum of Art, a video mixer and annotator, and is a self-published novelist.