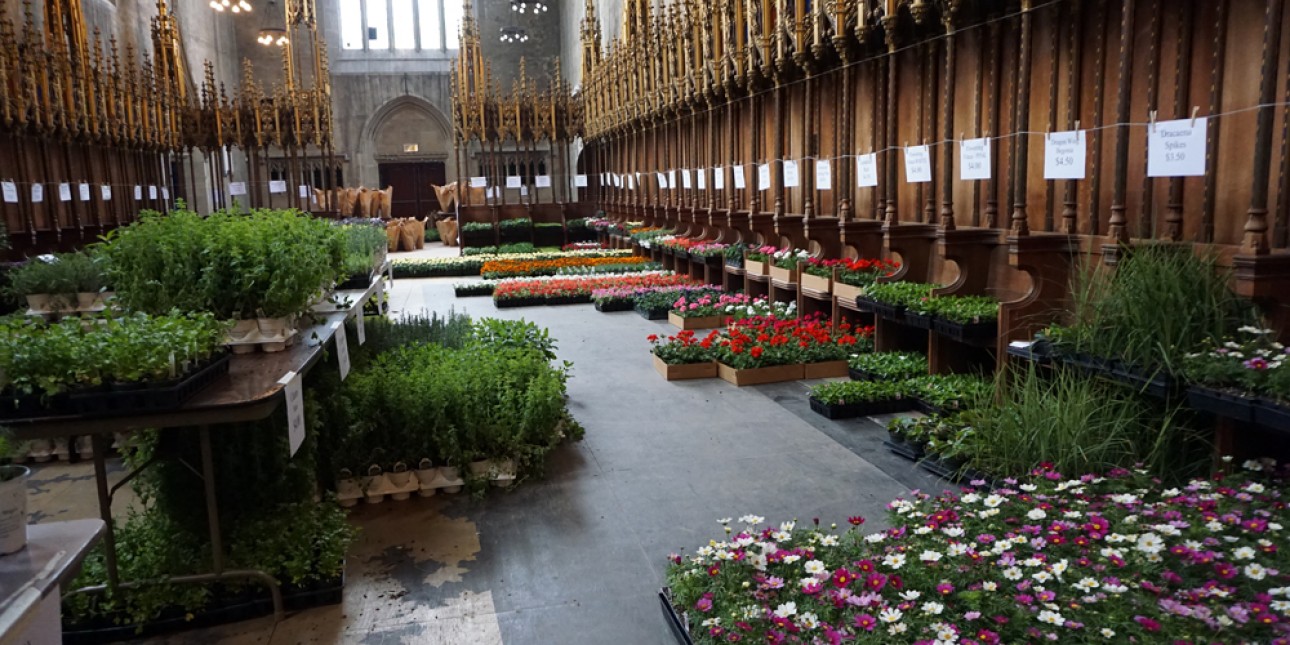 It was a wonderful weekend Plant Sale with plenty of pre-order pick-up and additional retail sales. And now that the dust has settled a bit, we are pleased to report that the Plant Sale raised over $36,000 to help provide tuition assistance to families at PIC who struggle with the cost of care.
On Friday and Saturday, 
we welcomed PIC families, staff, alumni, friends, and neighbors to St. Andrews Chapel next to PIC. There was a steady flurry of pre-order pickups and new sales.
We were pleased to see that this year's new offerings, including the four varieties of patio pots, vanilla marigold, and Bromeliad in Bloom, were hugely popular.
The Plant Sale also featured an amazing Bake Sale with goodies prepared by PIC families, who went all out this year with original sweet treats!
And the winner of this year's raffle is
...
Mekenzie Williams
who will enjoy a $100 gift card to
Talulah's Garden
, featuring seasonal american fare near Washington Square. 
On Saturday, we took a moment for a special tribute to former Executive Director Cindy Roberts.
Cindy touched so many people's lives and many of them joined us on the Nature Playground for a few words by PIC Executive Director Deb Green. This was followed by a release of butterflies, which had been raised in PIC classrooms. Thanks to everyone who came out to remember and honor Cindy.
See more about that event
.
We also want to thank our community partners from Greensgrow, Benett Compost, and PAWS who were a part of the weekend's activities. The Plant Sale is very much a community happening and we are happy to report that the remaining plants from our sale will be donated to Jane Addams place on 43rd Street for an upcoming planting project.
With over 630 pre-orders placed we were busy preparing for the weekend all week. We had help from many current and alumni family members who cleaned the chapel, unloaded plants from trucks, filled orders, and helped our customers as they arrived to pick up their plants.
We are especially grateful for the many helping hands from our Reed Tech and Beneficial Bank volunteers. This spring fundraiser would not be possible without all their hard work and dedication.
We want to thank our event committee led by Co-chair
Vicky Olsen
(Zoe is a Roadrunner and Lucas is a Rainbow). This dedicated group included
Aimee Ando
(Sage is a Firefly and Zoe is a Wild Thing), 
Emily and Jon Edelson (Evan is a Rainbow), Executive Director Deb Green,
 Jill Shashaty (Anna and Gabriel are in After School, Dahlia is a Peanut, and Raphael is a Bumblebee), 
Erin and Christian Ticehurst (Emily is a Sunshine), and PIC teachers Kali Strand and Denise Brice. The committee received strong administrative support and organizational guidance from Development Manager Karen Stachelek. Everyone did a great job!
Here is a photo recap of the last week.