In the Classroom: The Starlights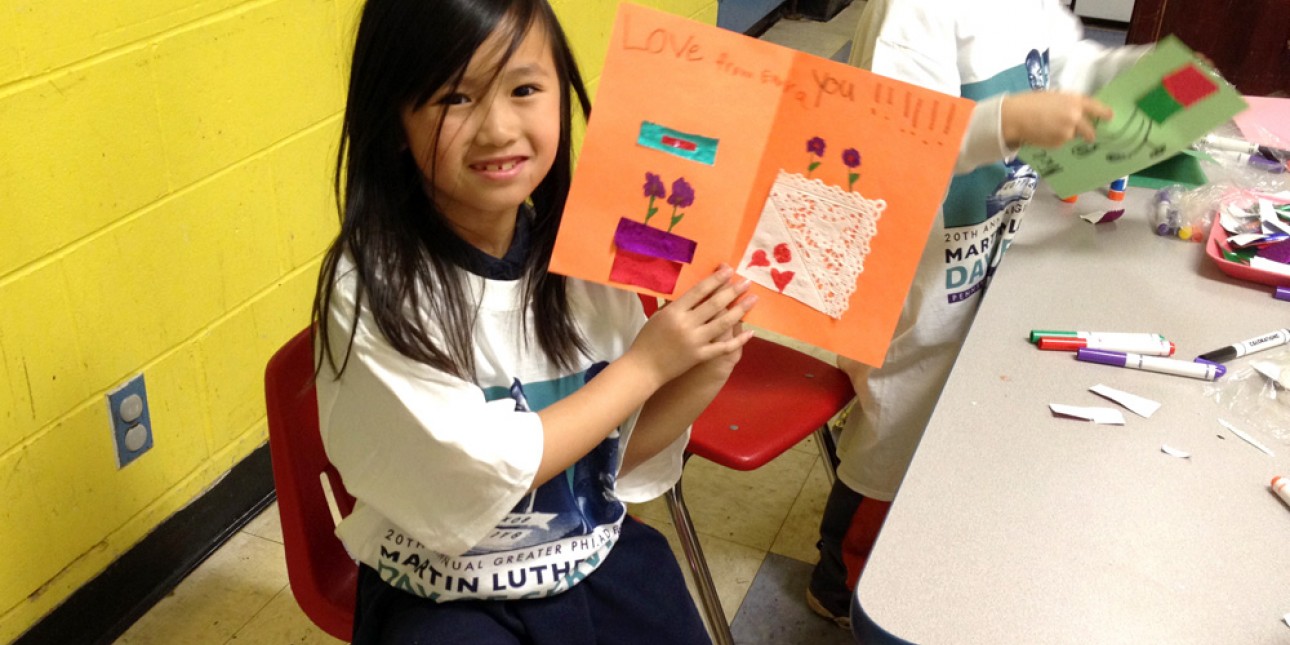 Starlights Participate in 2015 MLK Day of Service
In 2014, the Starlights participated in the Day of Service by collecting much-needed supplies for the Schuylkill Center for Wildlife Rehabilitation. After last year's great success, we decided to participate in this important Day of Service again.
The Starlights brainstormed possible activities and their final vote was to create get well cards for St. Christopher's Hospital for Children and Valentine's Day cards for the LIFE Center, an independent-living community for older adults.
We devoted three afternoons to achieve our goal of making 50 cards. At first it seemed a daunting task, but as we completed the cards and saw everyone's unique designs the Starlights became more and more engaged and determined to reach their goal.
Designs of rainbows, flowers, and hearts decorated the cards. One boy drew a picture of healthy food with a message of encouragement for good nutritional choices.
A few days later we walked to the post office and mailed our cards.
But, this was not all we did.
We read Child of the Civil Rights Movement by Paula Young Shelton, a book about a young girl who watched and listened to the struggles of her family and thousands of others as they participated in the historic march from Selma to Montgomery.
After reading this book, the Starlights created a piece of art responding to the following prompt:
Dr. King once said, "If you can't fly then run, if you can't run then walk, if you can't walk then crawl, but whatever you do keep moving forward." I can follow Dr. King's words when I…
The children came up with truly inspired messages, such as have love and peace in your heart, be nice to each other, and help the world with love. We proudly displayed our messages in the hallway outside of our classroom.
After a few weeks the Starlights mailed their messages to Global Citizen, host of the Greater Philadelphia Martin Luther Kind Day of Service, and received a classroom certificate in appreciation of our participation in the One King Day, One King Book Program.
Postscript: Starlight Lead teacher Linda Delenick was surprised to receive a response from Global Citizen for the Starlight entries. The work of one young Starlight was recognized by the committee and he received two passes for admission to the Natural Academy of Science. Congratulations to all the Starlights for this great work!