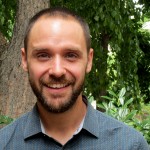 Rob Wiest
he/him
Flex Teacher
Here, we truly leverage the collective impact of that village we all know it takes to raise resilient, caring, self-reliant children.
Rob Wiest is excited by the curious nature of young children—their hunger for adventure, their excitement to learn about this big world, their delight at each new discovery.
After nearly one year working as an Assistant Teacher in a preschool classroom, Rob took on a new role as PIC's first Nature Educator.
Rob was drawn to PIC because of the ways the Center involves parents and community at all levels of the organization. He is a firm believer that this participation and community engagement elevates the quality of care and education our children receive.
Rob is passionate about nature. He has experience as a farm-based education coordinator where he developed curriculum and educational programming for outdoor learning. He has worked with toddlers to seniors, connecting people to nature through agriculture and environmental science experiences.
Rob was born and raised in southern New Jersey and currently calls West Philadelphia home. When not at PIC he enjoys contra dancing, growing vegetables in urban and rural settings, woodworking, and backpacking.