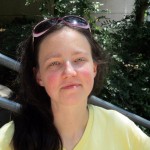 Rebecca Schedl
Art Educator/Assistant Teacher
Children have vibrant inner worlds that are unique and inspiring.
Rebecca Schedl joined PIC as a teacher in our After School Center. This summer she is pleased to be the Lead Teacher for the Eagles summer group.
A graduate of Indiana University Bloomington with a BFA in painting, Rebecca enjoys inspiring the creativity of children through art. She previously worked with children as a camp counselor at a summer arts camp for several years, as well as worked at the summer program of the Indiana University Art Museum.
Rebecca is originally from Charleston, West Virginia. She is happy to be working at PIC because of its strong sense of community.
According to her, "I'm a recent transplant to Philadelphia. Many of my West Philadelphia neighbors send their kids to PIC and they have really helped me connect with the neighborhood as a whole. PIC has helped me feel more at home in my new city."
When not at PIC, Rebecca likes to dance and spend time making things with her hands.