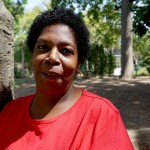 Marcella Handy
Assistant Teacher
I enjoy working with infants and young toddlers, watching them grow and seeing them react to different activities in the classroom.
Marcella has been a teacher at PIC for over 10 years. Marcella has a soft spot for the babies and appreciates that PIC encourages that children learn through their play
Though there have been many memorable moments during Marcella's teaching career, one especially stands out. Marcella recalls with amusement a day at the sensory table "and a child said 'Look!' and then poured water all down my leg."
Away from PIC, Marcella enjoys baking and spending time playing with her granddaughter.