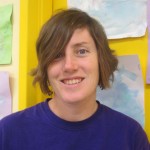 Kristen Carter
she/her
Assistant Teacher
I love seeing the growth and development of young children as they learn something new, and the changes that they go through in the classroom – first needing a lot of help and then gradually becoming more independent.
she/her
Kristy loves to plan lots of messy, sensory activities for young children. She's grateful that parents are appreciative of the teaching staff and she thinks that exchanging information is an important part of the parent-teacher relationship. "I always try to tell the parents something positive about their child's day. And if I have to tell them something negative, I try to balance it with something positive!"
Kristy has experience working with children who have been diagnosed with developmental delays, autism, and ADHD, and she is an active advocate for her own son, who is autistic. "If you have a concern about your child's development, please don't hesitate to ask your pediatrician for a referral, and also talk to your child's teacher."
A talented baker, Kristy collects cake pans and bakes cakes shaped like different characters. She also teaches preschool Sunday school, is an assistant Cub Master in her son's Cub Scout pack, and she participates in the areawide autism walk every year.