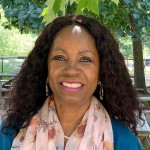 Johnetta Hurley
Assistant Teacher
I love that every day I have the opportunity to enhance the development of the children in my classroom as I watch them grow.
Johnetta credits her choice of becoming a teacher to her experiences caring for her younger siblings and extended family members while growing up. A West African native of Monrovia, Liberia, Johnetta enjoys sharing her cultural traditions with children as an everyday part of learning about the larger world around them.
Johnetta's teaching practice was inspired by the late Marni Sweet, PIC's Executive Director from 1982-2007, who championed professional development for staff members. Because PIC encourages all staff to purse higher education goals, Johnetta intends to study for a BA in Early Childhood Education.
A mother of five grown children, Johnetta has 14 grandchildren between the ages of 20 and one year. She enjoys her time traveling with her family each year.