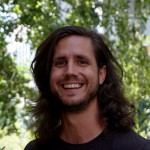 Brooks Wilson
he/him
Lead Teacher
I've watched children discover the importance of caring for the Earth and their own community. They learn this task as they learn how to best take care of their own selves. It is incredibly rewarding to be a part of that.
An artist and musician, Brooks loves the immediate reward of teaching young minds to discover critical thinking skills. "PIC has allowed me to implement best practices in teaching young children and has supported my mission to create a model classroom."
Because children approach learning with open minds, Brooks finds that their curiosity can shape and change preconceived notions about the best ways to teach preschoolers.
Brooks has made regular appearances at PIC's summer family reading program Storytime in Clark Park (currently paused) where Brooks brings his banjo for a musical take on storytelling.
Brooks also performed at PIC's first Make Music Philly event, which we held as part of a day-long celebration of music organized throughout Philadelphia (and the world!) on June 21.
Brooks' daughter Robin and son Summer are in the early learning program at PIC. When not at PIC, Brooks enjoys painting, gardening, and making music with his guitar and banjo.