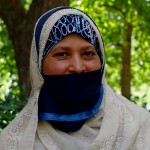 Atia Rahman
Assistant Teacher
I like working with infants and toddlers because this is an important developmental period that impacts a child's entire life.
Atia Rahman first came to PIC as a practicum student while earning her degree in Early Childhood Education. She has always loved working with children and although she has worked with them for many years, she finds that she still learns from them every day.
She joins PIC as a classroom assistant working with infants and young toddlers. She believes that building secure attachments and allowing children to learn and grow in a safe environment is very important and feels lucky to be able to play a role in that.
Atia appreciates the high level of cooperation she has found among PIC teachers and finds that she learns from her colleagues every day.
For Atia, PIC is notably different from other programs that she has observed. She loves the play-based learning that is encouraged, allowing a child's natural curiosity to guide exploration and discovery.
Prior to joining PIC, Atia cared for children ages 6 weeks to 12 years old. It was important to her to always work closely with parents to provide individualized care for each child.
Originally from Bangladesh, Atia currently lives in West Philadelphia with her family.
When not at PIC, Atia teaches Arabic to children in her neighborhood. She also likes working with her hands. She enjoys cooking and loves to make traditional Bangladeshi desserts. She also sews and does embroidery.