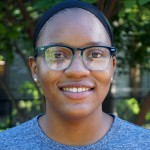 Siahnie McGee
Lead Teacher
Children make each day exciting with their humor, their wonderful way of thinking and their smiles.
Siahnie first came to PIC as an early education student at the Community College of Philadelphia. She completed her classroom observations and and practicum hours here.
Siahnie has always adored young children. She knew she always wanted to be a part of their learning and development as an educator. She finds working with children brings her an unbelievable feeling of joy.
She is happy to be at PIC where she loves the environment and felt very welcomes when she joined the staff. She finds the other teachers on her classroom teaching team are amazing, supportive and helpful.
Siahnie grew up in Philadelphia and now lives in West Philadelphia. When not at PIC she likes to spend time with her family and her partner, reading, as well as cooking and baking with her grandmother.
Siahnie looks forward to returning to school to pursue her bachelor's degree in Early Childhood Education.