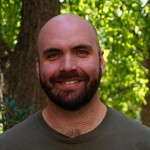 Steve Jansson
Assistant Teacher
I love being able to come to work and feel as though I'm making a difference. It's incredibly rewarding, as well as very fun work!
"Sitting in an office" is not for Steve. He says he enjoys teaching toddlers and watching them grow. He began at PIC as a part-time classroom assistant and after a year was promoted to Assistant Teacher in the Rainbow room. Steve enjoys working with the toddlers. He is always smiling and his sense of humor keeps the Rainbows smiling, too!
Steve plans to continue his education with courses in Early Childhood Education. In his spare time, Steve plays guitar and performs with several local bands. He actually credits his guitar teacher as one mentor who inspired him to become a teacher.