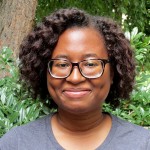 Natalie Ferguson
she/her
Lead Teacher
I love the fact that children are allowed to play and that there is no right or wrong way to play. It's just continuous open-ended play.
Natalie is the Lead Teacher in the Rainbows classroom and she enjoys working with children because she loves to watch them learn to build relationships and work to reach their full potential.
She draws her inspiration from her parents and childhood vice principal. She says they inspired her to get into the field and helped her develop the virtues of patience, kindness, understanding, and how to love.
Natalie has been working with children since her senior year of high school. She has completed many internships and placements, including one at PIC. She has experience working with a range of children of different backgrounds, including intellectual disabilities. Prior to teaching at PIC, she was a behavioral health worker.
Natalie is currently in school pursuing a degree in Early Childhood Education at the Community College of Philadelphia. She plans to obtain her Masters in Applied Behavior Analysis.
A native of West Philadelphia, Natalie enjoys traveling, movies, baking, and hanging out with her kitten, Ash.