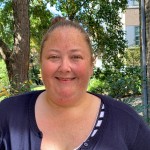 Meghan Fraatz
she/her
Lead / Flex Teacher
Meghan is native to the Philadelphia area. She completed her Bachelor's degree at Temple University and earned a Master's in Education from Keene State College.
She has been at PIC for over 12 years, first in the Eearly Learning program and now primarily working with the first graders. Meghan loves to joke around and make the children laugh.
When not at PIC, Meghan loves spending time with her family, being down the shore, watching baseball and going fishing.