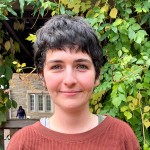 Katherine Seitel
she/her
Lead Teacher
Hello! I'm Katherine. I love to watch children explore the outdoors and help them to make discoveries about the world around them.
Working with preschoolers is such a pleasure for me because they are full of curiosity, silliness, and enthusiasm. I hope to create a preschool experience that helps children grow into compassionate, kind, and confident students.
It's important to me to create an inclusive classroom where all cultures are celebrated so that we can have the opportunity to learn and grow together. It is my goal for all children to feel welcome and respected.
I received my Bachelor's degree in English Literature from Loyola University New Orleans in 2014 and my Master's in Early
Childhood Education from Temple University in 2022. I will be a PA certified teacher once I pass the state exams.
When I'm not at PIC, I love to spend time with family and friends, take my dog Pocket on adventures, read short stories and
essays, travel, and refinish furniture. As a new teacher I also like to read literature related to education so that I can best meet
the needs of all learners in the classroom.