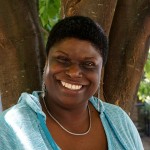 Kali Strand
she/her
Assistant Teacher
Warning: I giggle with children!
As a teacher, Kali values diversity, inclusion and fostering personal freedom along with accountability in the classroom. She enjoys empowering young children to follow their inclinations, and sharing the wonder that young children feel about the world.
Kali's inspirations as an educator include her first grade teacher, who made a practice of reading African folk tales to her multi-ethnic class. She is a past recipient of the Terri Lynne Lokoff National Child Care Award, which honors 50 early learning teachers annually for their commitment and dedication to the children they serve.
When she is away from PIC, Kali enjoys SciFi and mystery movies, Regency novels, ethnic foods, clothing and jewelry, philosophical and ethical discourse, and practicing armchair sociology!