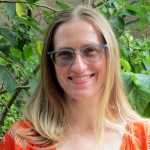 Julie Wesenberg
Operations Manager
When I work with children they help me see the world in a fresh light, and they become my teachers as well.
Julie Wesenberg brings her love of children and her study of psychology and social work to PIC. Julie began at PIC working in the classroom with infants and young toddlers. Over time, Julie began to take on operations responsibilities and has now transitioned to the full-time position of PIC's Operations Manager.
She has experience working in child care centers, afterschool and summer school programs, and as a nanny. She has worked as a play therapist for children with autism and down syndrome. She has also volunteered as a tutor and as a companion to sick children in the hospital.
Julie is passionate about helping kids learn more about the world and themselves. In her words, "I cannot think of anything that is more rewarding than nurturing a new person as they grow. I love to tap into their interests and curiosity to make every moment a learning moment."
Originally from Wisconsin, Julie currently lives in West Philadelphia. When not in the classroom, she loves to read, take walks through the neighborhood, dance, and spend time with good friends. She also loves to cook and is always looking for new recipes.