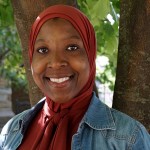 Jamillah Bowen
Assistant Teacher
I loved PIC from the very first time I stepped foot in the building -- from the colorful classrooms to the warm welcomes from the staff. I love the relationships I have with staff members. It feels like home.
Working with toddlers is a special joy for Jamillah. She loves the way 2-year-olds are so eager and quick to learn. "They don't know how to do a puzzle one week, but then the next week they can. I love when they first learn how to put on their own coats and proudly say, I did it all by myself!"
Strong relationships with families are important to Jamillah. She recalls one child who had extreme difficulty moving from an infant classroom to toddlers. "I did my best to make her and her parents feel at ease with the crying throughout the day. I would hold her, give her hugs, and send her parents pictures of her happy moments so that they would feel OK at work.
"After a while the transition went smoothly and her mother wrote a letter to let me know how much they appreciated everything I did. To this day, I still have the letter."
Jamillah is the mother of four boys, one is enrolled in the Early Learning program, while his older brothers are PIC alumni. Away from PIC, Jamillah enjoys reading, exercising, and spending time with her husband and children.