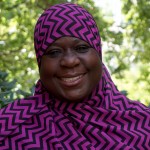 Jameelah Jones
Assistant Teacher
I am very passionate about what I do, which is making a difference in children's lives. I love making children happy.
Jameelah is a native of Guyana and currently lives in Southwest Philadelphia. She has recently joined the Rainbows toddler classroom after working as an infant teacher since she began at PIC.
In 2015, Jameelah was named one of the Terri Lynne Lokoff/Children's TYLENOL®, Children's ZYRTEC® National Child Care Teacher Awards. As part of the application process Jameelah proposed a classroom enhancement project entitled "Little Truckers on the Go!". Her financial award funded the purchase of wooden trucks that have been placed in a gross motor space for young toddlers.
In 2019, Jameelah earned her associate's degree through the Philadelphia Early Childhood Apprentice Program.
Jameelah says that she "couldn't have done it without the Apprenticeship program. I struggled so much with the math classes and I was provided with a tutor who worked with me for three hours each week throughout the semester. The accelerated pace of the Apprenticeship program was a challenge with working full-time, but everyone supported me.  It was such a blessing." 
When not at PIC, Jameelah enjoys cooking, reading and sewing.