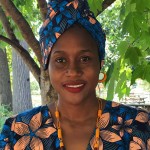 Dieynaba Diaw
she/her
Lead Teacher
I have a vision of a world where everyone feels included, valued, accepted, respected, and where we embrace the differences between us.
Dieynaba Diaw comes to PIC with over six years experience working with young children in a child care setting. She is excited to join the Butterflies preschool classroom.
Dieynaba believes children are filled with curiosity and wonder and she wants to help them discover the world around them. She is especially interested in helping the Butterflies learn through play, and explore the outdoors on the beautiful Nature Playground. 
Two of Dieynaba's own children were early learners at PIC, and she looks forward to joining the community now as an educator. She appreciates the diversity in color, religion, and beliefs throughout the Center, and especially among her colleagues. 
Currently enrolled at Community College of Philadelphia, Dieynaba will complete her Associate degree in Early Childhood Education in December. She plans to begin working towards her bachelor's in Early Elementary and Special Education at Drexel starting January 2022.
Dieynaba grew up in a small village named Mboloyel located in Senegal West Africa and currently lives in West Philadelphia with her husband and three daughters. When not at PIC, she enjoys cooking, spending time with family and friends, and visiting different places.