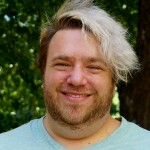 Ryan Walter
Assistant Teacher
Working with children is one of the most direct ways I can help influence the future for the better.
Ryan Walter works with school-age children in PIC's After School Center. The skills that he teaches students can set them up for the rest of their lives. For him, there is no better way to instill some positive values in the next generation.
What he enjoys most about working with children is that, "they are so inadvertently funny!"
Ryan grew up in Saugerties, NY but has been living in West Philadelphia for over a decade. When not at PIC he enjoys acting and directing shows with his friends.