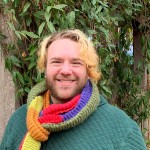 Ryan Walter
Assistant Teacher
Working with children is one of the most direct ways I can help influence the future for the better.
he/him
Ryan has joined the Blue Jays preschool classroom. Previously he worked at PIC's After School Program. After working at Friends Select School, he joined the staff to PIC.
Ryan has always loved teaching and the feeling like he is making an impact on the next generation, helping them to be more kind and more caring for those around them.
Ryan has a strong background in theatrical performance and received his BA in Drama from Vassar College. He recently shifted his focus to child care and has obtained his School Age Profession Certification.
Ryan began working at PIC several years ago looking for an organization in which he could both pursue his talents as a teacher, but also grow and learn more about the administration that makes child care possible; PIC fit that bill. Ryan's favorite activities to do with children include: sculpey sculptures, making candles, slime, and buttons, knitting, tie dye, and large Lego construction.
Ryan grew up in Saugerties, NY, a small town right near Woodstock and moved to West Philadelphia over 13 years ago. Ryan now lives in the East Germantown area and couldn't be happier.
PIC has become a true home for him and he looks forward to growing and changing with the organization for years to come.