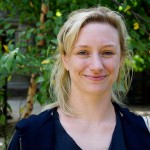 Lia Wilson
Preschool Program Coordinator
Children see the world in such a different way, and I love watching them grow.
she/her
After eight years as a teacher at PIC, Lia Wilson has joined the administrative team as the Preschool Program Coordinator.
Lia has a Master's in Education and PreK-4 Teacher Certification from Eastern University. She has coached teachers who are pursuing their Bachelor's in Early Childhood Education, and has experience providing individual and group therapy.
Lia loves working with young children because each day is different and always fun. She finds a great deal of inspiration from the talented teachers at PIC.
For Lia, helping children connect with nature is important. She believes in the benefits of incorporating natural materials into the classroom, as well as getting children outside to enjoy green spaces.
Lia and her family live in West Philadelphia. Her husband Brooks is the Lead Teacher in the Grasshoppers classroom. Their daughter Robin is a PIC alum and their son Summer is in the Early Learning program. When not at PIC, Lia loves biking, knitting, and spending time with family.