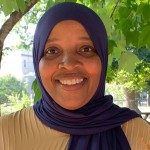 Kharma Hicks
Infant and Toddler Program Coordinator
When I came to PIC as a practicum student, I was immediately impressed by the learning community, how the teachers worked as a team, and the overall home-like feeling of the Center.
As the coordinator of PIC's infant and toddler classrooms, Kharma is ensures program quality and safety, manages and mentors her staff of teachers, and builds relationships with PIC families.
Before stepping into her current position, Kharma was an early learning teacher, working with all ages from infants through preschoolers. She says she is inspired by her three children, Basil, Khuwaylah, and Lut, all of whom attended PIC.
Kharma earned her bachelor's degree through Pennsylvania's TEACH program (today known as the Rising Stars Tuition Assistance Program), which provided tuition assistance, textbooks, transportation and release time from the classroom.
She believes in the value of higher education for early learning professionals and strongly encourages all teachers to pursue their educational goals.