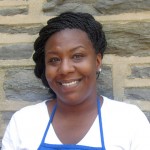 Tamika Little
Assistant Teacher
I first heard about PIC from a friend who thought I would like working here and I do. I think my energy is perfect for this place.
Tamika works with the infants in the Wild Things classroom where her playful nature is contagious. She enjoys working as part of a teaching team and supporting the growth of the youngest learners.
Tamika is the mother of one son who enjoys coming to PIC during the summer. According to Tamika, "PIC camp is awesome!" is his response whenever anyone asks about PIC.