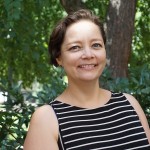 Susana Fattorini
she/her
Lead Teacher
While every age group has its rewards and challenges, working with Toddlers is the most satisfying for me.
We are pleased to welcome Susana Fattorini back to PIC as the Lead Teacher in the Moonbeams Classroom.
Susana began at PIC in a work-study position while a student at the University of Pennsylvania. She was hired full-time and ultimately encouraged to pursue a degree in Early Childhood Education at Community College of Philadelphia.
She remained at PIC for 15 years where she taught several age groups and served a stint in the administration. During her time away, she worked as a nanny in Center City.
Susana loves working with toddlers. In her words,
"the explosion of skills that happens between ages 2 and 3 is incredible; the single- or two-word utterances to fully formed descriptive sentences is enough to amaze, but it is just the beginning. Self-help skills, cooperative social skills and empathy for others all grow by leaps and bounds in the older classrooms, and it is my pleasure and my privilege to be a part of guiding that development."
Upon returning to PIC, Susana was thrilled to be welcomed back by so many former colleagues and finds, "that kind of teacher tenure to be a testament to the wonderfully supportive atmosphere at PIC."
Originally from El Paso, Texas, Susana currently lives in Lansdowne. When not at PIC, she enjoys reading novels, playing Quizzo and Scrabble, cooking, and spending time with her husband, Mike and dogs, Bella and Major.