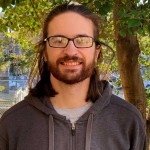 John Beck
Assistant Teacher
Working with young children makes me feel like I'm making a difference in their lives.
he/him
John Beck comes to PIC with many years of experience working with children in after school programs and summer camp. It was while working with children at a Quaker school that John was inspired to try working with kindergarteners full-time.
After two years studying towards an electrical engineering degree, John shifted gears and is now at Community College of Philadelphia studying for his associate's degree in Early Childhood Education.
Upon joining PIC, what really resonated for John was the play-based learning and emergent curriculum that guides our work.
Originally from Baltimore, John now resides in West Philadelphia. He loves being able to walk to work. He also enjoys running, reading, and playing with his cat.