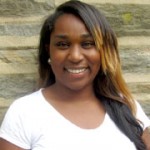 Anjerrica Torrence
Assistant Enrollment Coordinator
The thing that I love most about teaching is being able to share my love of art and music with children, and giving them the tools they need and freedom to express themselves.
Jerri says she chose to teach at PIC because she was attracted to the Center's philosphy of learning through play. She also appreciates the parent involvement that PIC offers as teachers and parents work together to help with their child's education.
"I'm inspired by my co-workers. Working alongside such professionals in the early education field pushes me to be the best teacher that I can be."
As a teacher, Jerri has had much experience with English language learners and uses her love of music to extend their learning experiences. "One of my favorite memories has to be our musical activities with my preschoolers, especially when we have special occasions when children will share their musical talents with the class!"
Jerri has competed in the Broad Street Run and Philadelphia Mud Run. She also enjoys playing guitar, walks at the shore, and spending time with family and friends.