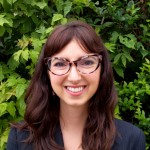 Jessica Carter
Assistant Executive Director
she/her
Jessica Carter joins the Parent Infant Center's administrative team as Assistant Director. She brings 11 years of experience in early childhood and K-12 education to PIC.
As the Assistant Director, Jessica provides pedagogical leadership and support to the program administrative staff and classroom teaching teams. She also works closely with the Executive Director in other areas of PIC's expanding administrative responsibilities.
Most recently, Jessica was the Executive Director (ED) of Apple Playschools in Ann Arbor, Michigan. This Reggio-inspired early childhood education organization shares many of the core values we live at PIC.
Jessica is passionate about learning languages and intercultural communication. Prior to her ED role, she was the Program Director of Manzanitas Spanish Immersion Playschool. Jessica also spent two years in Hangzhou, China as a founding teacher and a year in Spain as a Fulbright scholar. 
Jessica has a master's degree in Education Leadership and Policy from the University of Michigan.
In her free time, Jessica enjoys reading, traveling, salsa dancing, and spending as much time outside as possible.