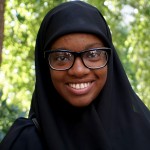 Zaidah Abdul-Malik
Classroom Assistant
Zaidah Abdul-Malik is a teacher in the Moonbeam toddler classroom.
Before she was hired, Zaidah was very familiar with PIC. Her mother has been a teacher here for 10 years, and Zaidah was a volunteer in the Wild Things classroom.
She is inspired by the curiosity of children and their love of learning. She loves reading to small groups of children and engaging with them. Simply put, Zaidah just loves working with children.