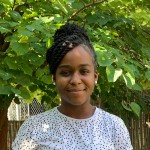 Terin Anabui
Assistant Teacher
I didn't always know that I wanted to be a teacher. I just knew that I wanted to help make change in the world.
I have tutored and mentored children in Philadelphia, which opened my eyes to how teachers and educators impact children.
My own teacher pushed me to dive deeper into education for children and I soon knew that this was the right path for me. I now study child development, and will be continue my education this spring in Early Childhood Education.
What I love most about working with children is sharing the joy that they feel when they reach each developmental milestone. Our children are our future and helping them reach their full potential is one of the greatest things that I believe I can do.