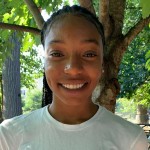 Tyheera Handy
Classroom Assistant
she/her
Tyheera Handy comes to PIC after working five years at Belmont Charter School. Working at PIC appealed to her because of the value placed upon learning through play.
Tyheera enjoys working with young children and making them happy. She also likes learning from them and teaching them new things.
Tyheera grew up and currently lives is West Philadelphia. When not at PIC, she likes to spend time with family and friends.