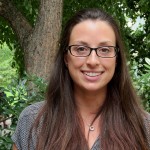 Tess De Aquino
Lead Teacher
Children teach me so much about being present, staying curious about the world, and accepting others for who they are.
Tess De Aquino is a teacher in the Chipmunks classroom and she loves teaching children because they are curious and amazed by the world around them. Her favorite subjects to teach are literacy, science, art, and social skills.
Tess fell in love with the progressive learning environment after student teaching at The Philadelphia School. She is excited to work at PIC because of its progressive, creative, and research based learning environment.
Before coming to PIC, Tess worked in a public school and has experience working with students with learning difficulties, from grades 1-5.
Tess was raised in New York City and moved to Orlando, Florida when she was in high school. She moved to Philadelphia in 2010 and now resides in West Philly.
In her spare time, Tess loves to go to coffee shops and read. She also likes to travel with her husband, Dennis and walk her dog, Avery.