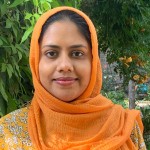 Sumia Moonmoon
Flex Teacher
Sumia first got to know PIC as a parent and her child continues to attend our preschool program. As a parent, she saw a lot about PIC's approach to learning.
Sumia finds PIC to be a nice and friendly work environment. She loves to work with children. As a teacher, Sumia enjoys reading books with children and being outside with them.
Originally raised in Bangladesh, Sumia now lives in Philadelphia not far from PIC. When not at PIC, Sumia enjoys spending time with family and she likes to cook.