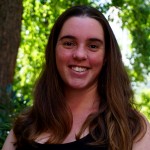 Nichole McLeer
Assistant Teacher
Every day is an adventure. The possibilities for teaching are endless.
Nichole draws inspiration from the "creative, passionate teachers" around her at PIC. "Giving children the space and guidance to create, investigate, make mistakes, solve problems and work cooperativlely is the best part of my role as a teacher."
Nichole has worked with both infants and preschoolers, and finds that parent involvement is key to creating a feeling of community in the classroom. "Every parent has the power to enrich their child's experience by getting involved."
At Philadelphia's annual 3-day walk against breast cancer, you'll find Nichole out on the trail!