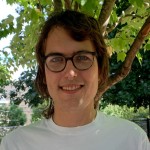 Naz Bowman
she/her
Assistant Teacher
I have always had such fun being around kids. It is a creatively and emotionally rewarding experience.
Naz Bowman works with the preschoolers in the Roadrunners classroom. She finds children to be infinitely creative and compassionate. In her words, "Being with kids is like being inside a work of art. I love seeing them develop traits I know will stick with them through their whole lives."
Naz finds PIC to be welcoming and understanding about the openness of teaching young children. This is why she chooses to teach at PIC.
Naz is originally from Northeast Philadelphia and currently lives in West Philly. When not at PIC she enjoys reading, writing, and watching sad movies.