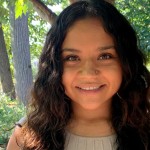 Michelle Gueco
Lead Teacher
What I love most about teaching is coming into work to a class of children who are excited to see you!
she/her
Michelle supports all PIC Early Learning classrooms. She loves helping the children grow and learn in a loving environment.
Michelle is currently working towards her associate's degree at the Community College of Philadelphia. When she started working at PIC, she was studying child psychology. Since her time in the classroom, she has changed her focus and is now seeking a degree in Early Childhood Education.
Talented teaching staff and strong relationships with parents are two things Michelle values about her work at PIC.