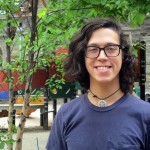 Michael Roach
Lead Teacher
Children are exploring endlessly and trying to understand the world. They remind me everyday that the world is an amazing place.
After a year as an assistant teacher, Michael Roach has been promoted to the Lead Teacher of the Hummingbirds, a new preschool classroom for children ages 3-5. He is excited for the opportunity to create a classroom environment and culture with his new children.
Prior to coming to PIC, he taught at Abington Friends School in a 2nd grade classroom, as well as in their Early Childhood, After School, and Summer camp programs.
Michael finds that PIC truly keeps kids at the center of everything they do. In his words, "PIC is constantly striving to better serve their students while advocating for the best interests of all children. It's such an inspiring thing."
Michael describes himself as an educator and an advocate. He is especially interested in helping create early childhood spaces that welcome gender and racial diversity.
When not at PIC (and even when he is), Michael loves to be outside! Camping, hiking and gardening are some of his favorite things to do. He also loves to cook, bake, make art and music and spend time with his partner Kristen.